Media
Tulsa powerlifting event honors 9/11 victims, raises money for local first responders – KJRH
---
Honoring the Fallen Powerlifting Meet – KRMG
---
The Tulsa 40: Jonathan Conneely – Tulsa Business & Legal News
---
The 2015 Bootcamp Tulsa Christmas Party
---
The Tulsa Daily | 2014 Bootcamp Pumpkin Workout
---
Change Life Challenge 2014
---
Mercedes Benz Giveaway!
---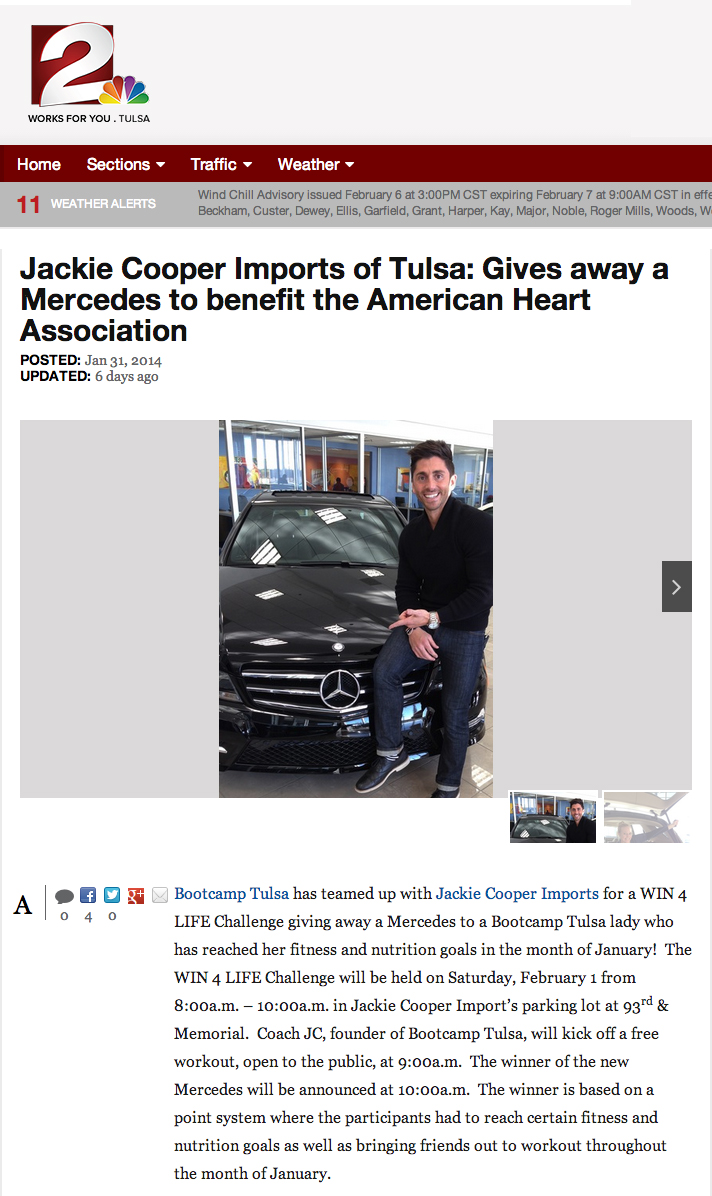 Read the Full Article Here – Jackie Cooper Imports and Bootcamp Tulsa Give Away a Mercedes
Coach JC talks about Bootcamp Tulsa's Biggest Giveaway yet! – A Mercedes Benz
Behind the Scenes on Great Day Green Country and Bootcamp Tulsa's Biggest Giveaway Yet!
Mercedes Benz – Guidelines – See how you can be driving this in 2014
Bootcamp Tulsa Featured on The List
Coach JC shows how you can use even a pumpkin to get the results you want on Fox 23
Change a Life Challenge 2012
The Media & The Talk of the Town
The power of pressure- Making a commitment to exercise can make a difference
by CARY ASPINWALL
Tulsa World 6/3/2010
If you committed to an exercise schedule and told others about it, would you be less likely to punk out on your workout? The answer is yes, according to experts and a study conducted by Stanford University…
---
Bootcamp Tulsa Outdoor Fitness Program named to Tulsa's "The A List" in 3 categories
Tulsa People Magazine
From hair to skin to staying in shape these are our readers picks for the business that helps them look and feel their best. Bootcamp Tulsa Landed The A List in 3 categories. Bootcamp Tulsa was named the "A List" in Weight Loss, Women's Only Exercise and Gym.
---
Founder of Bootcamp Tulsa, Coach JC presented the Young Entrepreneur of the Year Award
by LAURIE WINSLOW, World Staff Writer
Friday, November 20, 2009
In a ceremony that mimicked the Oscars and MTV Music Awards, 11 category winners of the second annual Tulsey Awards received a golden bronze Driller statuette Thursday evening in recognition of their entrepreneurial spirit.
---
Founder of Bootcamp Tulsa, Coach JC named as one of Oklahoma's 30 under 30 of the Year Award
by Aja J Junior
JANUARY 27, 2010
30 Under 30 Small business owners turn their American dreams into reality. How old do you have to be to own a small business? What's the formula for finding entrepreneurial success?Neither of these questions have simple answers, but what we do know is that there are no boundaries on age or dreams when it comes to running a small business…
---
Coach JC named one of 40 Under 40 of The Year Award!

by Oklahoma Magazine
The 40 Under 40 Class of 2010 represents a diverse group of young professional who are moving up and giving back. The Founder of BcT, Coach JC received the award on behalf of the BcT Team..
---
Bootcamp Tulsa – The 918moms Fitness Expert and local Fitness Celebrity, Coach JC

918moms.com
Coach JC and the BcT Team delivers weekly lifestyle, fitness, and weight loss advice and a weekly video Transformation Tip to the moms of the 918 as the Fitness Expert.
---
Tasha Does Bootcamp Tulsa
Coach JC's Fitness Bootcamp, Bootcamp Tulsa featured  on Tasha Does Tulsa, Tulsa's popular blog. Local Business woman puts the Bootcamp Tulsa program to the test.  See if she can hang at 5:30am!…
---
Big Tom's Trainer Gives Keys To Weight Loss
by Terry Hood, The News On 6
Coach JC featured on News on 6 as he takes 500lb Tom Basler on a transformation journey for 12 weeks.
---
A New Weigh For Big Tom Part 5
by TERRY HOOD
News On 6-February 27, 2009
"It's about getting people moving again. So many people have lived a sedentary lifestyle and they're motivated to get fit, lose weight, they may even have some knowledge. Our goal is this, let's give them a game plan," said Jonathan Conneely, of Bootcamp Tulsa.
---
Coach JC and BcT On KBEZ
Coach JC talks with Carly Rush and Steve Smith from the KBEZ morning show about 2 Can Workout and raising food for Tulsa Dream Center listen to the interview here
---
Time bomb: Magazine downplays exercise
by Cary Aspinwall
Tulsa World, Okla. Publication: Tulsa World (Oklahoma) Date: Thursday, August 13 2009 Time magazine stirred up controversy this week with a cover story claiming that exercise won't make you lose weight. Tulsa World turns to Coach JC to get his thoughts on exercise and Time Magazine's claims..
---
Jonathan Conneely Offers Two Free Weeks of Bootcamp Tulsa
TULSA, Okla. – Greater Tulsa Reporter
Jonathan Conneely, the founder of Bootcamp Tulsa will be signing copies of his highly anticipated book on April 17 from 1-4 pm at Borders at 81st and Yale. As a thank you for attending the book signing, Coach JC would like to extend Two Free Weeks of Bootcamp Tulsa to each individual who purchases a book that day.
---
Top 10 Fitness Bootcamps in America
by AskRoccoMedia-USA
"What would you consider to be the Top Ten Fitness Bootcamps in the country?" After considering that I ran one of the most successful bootcamps in the country I decided to create a list of bootcamps that fit a specific criteria.I love this bootcamp! Jon Conneely has been an athletic bootcamp coach for several years now and decided that the people of Tulsa, Oklahoma needed his guidance to get themselves out of the fat suits they were wearing…